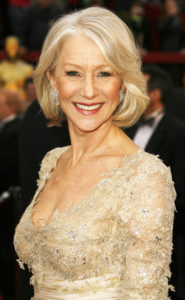 Helen Mirren to Receive Career Achievement Honor at AARP The Magazine's 17th Annual Movies For Grownups® Awards
British actress Helen Mirren will be awarded a Career Achievement Award from the AARP at the 17th annual Movies for Grownups Awards on February 5, 2018. The awards focus on recognizing new movies and actors that appeal to moviegoers 50 years and older. Mirren expressed gratitude for the award and stated that she is honored to be a recipient.
The Movies for Grownups Awards were first established by AARP in 2002. The ceremony for the 17th annual Movies for Grownups Awards will be aired on television for the first time next year as part of the Great Performances series on PBS. Past recipients of the organization's Career Achievement Award include last year's winner, Morgan Freeman. Actors like Susan Sarandon, Sharon Stone, Alan Arkin, Robert De Niro and Kevin Costner have won the award previously.
Mirren is one of the most respected actresses in the film industry and has had a long career, dating from the 1970s. After achieving early success in the Shakespeare adaptations A Midsummer Night's Dream and Hamlet, she went on to star in Peter Greenaway's The Cook, the Thief, His Wife & Her Lover in the 1980s. She played both Queen Elizabeths on television in Queen Elizabeth I and on film in The Queen. She also portrayed dedicated policewoman Jane Tennison on television for over a decade in Prime Suspect. Her new movies include Collateral Beauty and Trumbo. She also made a brief cameo in The Fate of the Furious, a role that was explored in the new movie behind the scenes featurette. The new movie trailer for her upcoming horror film Winchester: The House That Ghosts Built was recently released. The new movie trailer for The Leisure Seeker with Donald Sutherland is also available, although the film will not be released commercially until January 2018. Mirren will be portraying Mother Ginger in the fantasy film The Nutcracker and the Four Realms. For this new movie behind the scenes photos have not
yet been released, so Mirren's look for the film is still unknown.